The only pre-requisites to acheving what you want is knowing what you want + having a desire to want it.
What would your business look and feel like if stuck, constant roadblocks, and sticking with what 'fits' was replaced with freedom, ease, and fulfilled?

What would your life look + feel like if you had ...
1
The time freedom you dream about?

You can have as much as you want that you believe you can have. Achieving 'more' is possible without having to work more.
2
Deeper, more meaningful relationships (with yourself + others)?
Discover who you are at a deeper level, which means you have more of yourself to give to others.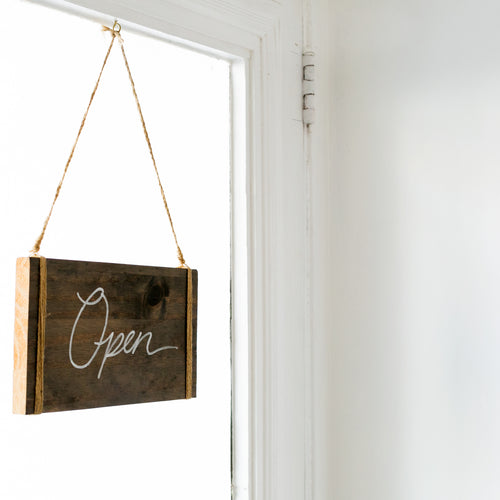 3
A simpler, faster transition out of your day-career, with success sooner not later?

Because you want to feel fulfilled by what you do, not just 'fine', and you're feeling compelled to finally explore, and pursue that something more that's been creeping up on you these past few years.
4
More consistent sales?
Ditch the 'feast or famine' cycle that is so common in entrepreneurialism, and grow your business with ideal clients & customers with more ease + flow (and fun!). Yes, it really is possible.
5
Increased confidence to 'put yourself out there' and be visible?
You are the face + voice of your business. To step up or out and be seen or heard takes courage. Yes, courage first, then comes confidence once you shatter the beliefs you have about visibility like needing to be 'perfect'. Let's get you positioning and promoting yourself as the expert you are.
When you're ready for a change, you know it. You feel it. Now you have access to a program + guide who can help you achieve the changes you want.
Group coaching for impact-driven women 40+ who are compelled to achieve that something "more" through what they do.
Women who want to increase their impact, influence, or income through their business with less time, energy or overwhelm. Veteran business owners or women wanting to transition from the corporate to the entreprenerial world.
Guided by someone who's achieved "dream goals", embraced visibility after 40, and is passionate about supporting women in achieving the business they envision, simpler, faster, and with more ease + flow.
Meet your TIR Facilitator | Proctor Gallagher Consultant
Danielle Joworski
Life-changing.
A word that describes my personal and professional transformation from studying this very program, and what Clients are expressing. From microbiology lab to TV broadcasting and award-winning entrepreneur. Doesn't make logical sense, but it feels so right. From increased confidence, to feeling fulfilled, and creating a life that was once only a vision. Choosing yourself and your growth is an investment in not only your future, but for the future of your family, organization, business or community.
Make a decision today that can transform the rest of your life.Are you ready?
Welcome to Thinking Into Results®.
THINKING INTO RESULTS® (TIR) is a world-renowned, transformational growth program used by individuals + businesses around the world to achieve goals that were unimaginable before, and develop people to up-level their performance and create permanent change in ways that were once unheard of.

TIR comes with 60+ years of research into the art + science of mindset and personal growth, with proven results time and time again.

It's a one-of-a-kind, step-by-step, and repeatable program designed to help you achieve the goals you dream about. No matter what they are
That one decision has already created for clients ...
Excitement to start and move through their day
Feeling like they're living with purpose
Accomplishing more and with more ease + flow
Achieving goals that'd been on the back-burner for years
What's Included in your Thinking Into Results® (TIR) Group Program Investment*
Small coaching group

Private, online coaching group no larger than 10 so you are seen, heard, and supported. Not a number. Your group moves through the program together at the same time so you learn at the same pace, and nobody is left behind.

Digital access to the Thinking Into Results® materials (videos, audios, workbook)

Your investment includes access to the digital TIR program materials offered through the Proctor Gallagher Institute (PGI) portal. After you complete the TIR program, you retain your PGI access to the online TIR materials.

Daily morning intention calls

Start your day with focused intentions surrounded by a collective community of clients @ 6am Eastern (not recorded, no cameras on, may include other TIR clients).

Weekly webinars

Weekly webinars to take your understanding + application of the program material to a deeper level.

Bi-weekly open office hours

Extra time is provided to ask questions about the lesson materials, share your wins, and learn from others in the program (not recorded, may be online and/or in-person).

BONUS: Personality Dimensions™ assessment

Gain a powerful understanding of yourself and who you are, and learn how to use this insight of "you" in your goal achieving process from the very beginning of the program. Complimentary assessment is provided through an independent practitioner.

1-on-1 coaching calls

Yes, a group coaching program with 1:1 elements! Two different call types are designed to keep you accountable and dive deep into what's holding you back.

"Breather" weeks

Normalizing rest, not the hustle and grind. Complimentary learning lessons during these weeks are designed to take your goal achieving efforts farther, faster, with more flow and FUN. "Breather" weeks may include talks by Guest Speakers (online and/or in-person and may include other TIR clients and/or guests).

Complimentary access to the VisibelleCEO™ Community

While you study the TIR program with your private group, you also have complimentary access to a larger community of like-minded women entrepreneurs evolving on their visibility journey.




*Inclusions above are for the Group program investment only. For 1:1 or team coaching (e.g. network marketing teams), please contact Danielle for details, availability, and pricing at danielle@daniellejoworski.com.

FINALLY! A women's group coaching program designed around the safety, security + support women felt they needed to be successful in a coaching program.
In late 2021/early 2022, Danielle performed market research asking women from across North America what they wanted, and felt they needed, to be successful in a group coaching program.
Women shared. Danielle listened. The result of what women wanted is seen through the group + 1:1 elements included in this program, and in the one-of-a-kind way it's being delivered.

CONVERSATION | COLLABORATION | CONNECTION | COMMUNITY
Interested? Get started with 4 easy steps
Click the buttons to book your complimentary, 30-minute conversation
Book a call
01
Get a better understanding of what it is you want
Gain clarity
02
Gain awareness of what's responsible for resistance, that feeling "stuck", and what's holding you back from moving towards what you want
Create awareness
03
Together, we talk about the program, what's required, and what you can expect. You then decide what you want to do next. No obligations.
Discuss net steps
04
How is the TIR Group Coaching program facilitated?
The Thinking Into Results® (TIR) curricula contains 12 distinct lessons. Each lesson is studied for at least 2 weeks.

Group sizes are small (no more than 10 people)

Groups receive weekly LIVE lesson and complimentary webinars.

The TIR Group Coaching program is facilitated with the intention of collaboration, conversation, connection and community.

What does the TIR Group Coaching program cost? Do you offer payment plans?
Your current investment in the TIR Group Coaching program and coaching with Danielle is $12,000** CDN ($9300** US).

Payment plans may be available.

**Includes taxes (if applicable). Payments in CDN dollars is only for Canadian Clients living in Canada. Payments in US dollars are for US, or International Clients.
What are expectations of me as a client?
As a Client, you will get out of this program as much as you put into it. You must put into action what you are learning, have an openness to learning new things, and are coachable.

As a Client, you are expected to, and are responsibe for:
• following the program as communicated (studying approximately 1 hour/day, attend webinars, complete lesson exercises).
• Booking all 1:1 coaching calls as per your program.

DISCLAIMER: Because personal growth is personal, individual results will vary. Current and past clients results are not guarantees of what you can expect to achieve. Your personal results will be influenced by a number of internal and external factors such as your studying habits, openness to new learning, your coach-ability, prior knowledge/awareness/understanding of personal growth and mindset methods and theories, and application of the Thinking Into Results® program material, and following any coaching provided.
Are there 1:1 elements included in the TIR Group Coaching program? If so, do they cost extra?
Yes, 1:1 elements are included at no additional cost.

Two types of 1:1 coaching calls are available to clients***:

1) "Laser" coaching calls - 15 mins via phone, booked a maximum of 1x/week

2) 4 x 60-minute coaching calls via Zoom booked at specific points during the program

***Clients are accountable, and responsible for booking all coaching calls. If they are not booked, they are considered missed and cannot be made up or used at a later date.
Do you support Organizations or Teams?
Yes. NOTE: A minimum number of team members is required. Book a call with Danielle to start a conversation about this.
Do you offer 1:1 coaching with the TIR program?
Yes, however availability is extemely limited. Book a call with Danielle to start a conversation about this.
What Clients are already saying ...
I have been working with Danielle following her Thinking into Results program for the last 8 weeks. I am less than a quarter through the program, and my life has changed so much! I have clear goals. I wake up excited to achieve them. I am living my life with purpose. I am accomplishing so much with flow and ease. And most importantly I am having so much fun!!
Ontario, Canada
Logistics Leadership
The speed at which I'm manifesting is illogical.
Ontario, Canada
Entrepreneur, Content Creator
The way she (Danielle) approaches this program is amazing. It's a safe space and the collaboration we have with our group is so much fun. I highly recommend you reach out to her, she is absolutely amazing!
Ontario, Canada
Health & Wellness Provider, Entrepreneur